My hat is off to the creator of this great site.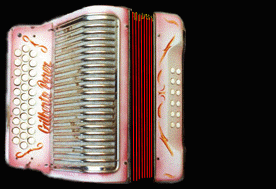 Ranco Accordions
Our friends from Italy. Newly released the "Zorrito" line of Ranco accordions based on the legend of Zorro. These boxes are Georgeous.
www.rancoaccordions.it
La Fe Music Hall
Coming down to Monterrey? Might want to see what is playing at the local clubs. Also, surf around the site. There is a link to local radio station "La Caliente" for Norteña music.
http://www.lafemusichall.com